When you integrate surveys with Salesforce, you can distribute, analyze, and act on surveys through the lens of other key customer data. For example, customer service teams can create omnichannel feedback programs using Salesforce-aware surveys and native Salesforce functionality, like workflows and alerts. This allows them to collect customer feedback after every critical interaction without relying on a human to send each survey and analyze the results.
Mastering Email Surveys from Beginning to Send
Email has long been the channel of choice for marketers and service professionals. It's the best way to reach people and get your message heard. So when it comes to survey distribution, it's no surprise that email reigns. But there's a bit more to it than plugging in a survey link and hoping for the best. We'll cover email survey best practices that help you maximize response rates and get data you can count on.
Like any other customer communication, survey success depends a lot on the channel. Once upon a time, companies could only distribute surveys by phone or mail. Not only was it costly and slow, but it required a lot of effort on the part of the respondents. Spending 30 minutes on the phone with someone or filling out a mail survey then sending it back… it's not walk in the park. Needless to say, survey response rates would often suffer, and the quality of the survey data would suffer with them.
Nowadays, the majority of surveys are sent by email, and for good reason. Email is the most dominant communication channel in the world, and the best email service providers offer an array of functionality that helps companies target the right people at the right time. Plus, email adapts well to the many devices we use. As mobile usage has risen, so has the percentage of emails opened on mobile.
Beyond its versatility, email is different from other channels in its unique ability to set expectations. Unlike phone calls or mailers, emails give consumers a preview of what they're getting. They see the sender name and know a company is contacting them, probably with an offer or request. This quality makes email especially useful for survey invitations, which are ultimately a bit more of an ask.
Lastly, email wins out among survey distribution channels because it can easily combine multiple pieces of content (and multiple purposes) into one. For example, an order confirmation might include the order summary, a link to an FAQ article, a list of other popular purchases, and a survey invitation. In other words, email can include multiple calls to action without repelling recipients.
How Do Email Surveys Work?
Hyperlink Text
The most basic way to distribute a survey via email is by hyperlinking text to your survey URL. You've surely gotten this kind of survey invitation in the past. Usually the call-to-action says something like, "Take the survey" or "Share your feedback" and the link launches a survey in your web browser.
Hyperlink an Image
"Image" is a loose term—you can hyperlink a photo of an elephant to a survey or design a special button that says, "Take the Survey." It's totally up to you. Hyperlinked images function just like hyperlinked text, but they tend to make the survey invitation pop a bit more.
Embed a Survey Question
We've saved the best for last. If you're sending an HTML email, you can actually embed the first survey question directly into the email body, giving recipients the option to respond straight from their inboxes. Not only is it pretty, but it also increases survey response rates significantly. We'll touch on this more below.
Types of Email Surveys
#1. Customer Satisfaction and Net Promoter Score Surveys
Both Customer Satisfaction (CSAT) and Net Promoter Score (NPS) surveys are a staple of measuring your customers' satisfaction with your company and the likelihood of your customers becoming promoters. Email surveys are the perfect venue for your standard product and service-related surveys.
NPS email surveys require little setup as you already have a list of customers' emails available in most cases. Additionally, by placing the first scoring question in the body of your email, you are guaranteed higher response rates to at least that first question.
#2. Post-purchase survey for e-commerce
#3. Surveys embedded in newsletters
If you are regularly sending out a newsletter to your customers, you can enhance it further with relevant surveys. You can ask your recipients how useful or relevant the newsletter is to them, or suggest different topics to include in your next newsletter.
#4. Trial satisfaction survey
Most SaaS companies face the same problem – trial or free users don't convert into paying customers. It's a huge headache and we do our best to limit it with great onboarding strategies and support. But apparently, it's not enough.
Not so many companies want to share their results because no one wants to admit to low stats. Thus studies are few and it's difficult to find a benchmark of conversion rates from a trial to paying customers.
Sometimes a short email from the support team can completely change the way people think about you. A simple example from our experience: we sent a survey to trial users to find out why so many of them cancel accounts.
A few users were dissatisfied and likely to churn because they thought we didn't offer UTM targeting. It took Daniel, our support hero, 5 minutes to write emails with an explanation of how to set UTM targeting. Result? Happy customers and higher MRR.
What is most interesting is the fact that our scoring system didn't work at all for some of those users – they seemed to be achieving good results and taking all actions we considered as crucial on the way to becoming customers.
#5. Satisfaction survey for events and conferences
The satisfaction of attendees is one of the crucial factors for organizers (or at least it should be). In fact, some conferences share their NPS as social proof to show people that the event is worth attending and participants love it.
And is there any easier way of collecting their feedback than via email surveys? I don't know any. All participants are on your mailing lists so you can distribute the survey without a struggle. You can send a link to a survey as well, but as already mentioned, response rates will be usually lower.
#6. Increasing mobile app retention
Mobile app developers face a similar problem to SaaS companies whose trails don't convert into customers – people download apps and then don't use them. According to this research, only around 25% of people still use an app three months after downloading it and some studies suggest it's even less.
If you require creating an account with an email (like Endomondo does) you can use email surveys to find out why people don't activate. Of course, you can use traditional surveys as well, but let's be honest – how many people who chose not to use your app will be willing to sacrifice their time to fill out a long questionnaire?
Sources:
https://www.getfeedback.com/resources/online-surveys/mastering-email-surveys/
https://www.questionpro.com/blog/email-surveys/amp/
https://survicate.com/email-survey-guide/
Email surveys
If you have a clear and simple subject line, respondents are more likely to open your mail and respond to your survey. Use a subject line that can convey the purpose of the email survey. For example, "your feedback makes us better".
Integration
Survey automation tools keep your experience program on track. Integrations are easy to set up and combine with common tools you use every day like Salesforce, Mailchimp, and Shopify. Trigger email questionnaires, sync survey data, and more.
When you put email feedback at the center of your business and data collection strategy, it's important to create a personalized sending experience. Customize the email subject lines with the customer's name to capture the respondent's attention off the bat. Take a look at our Help Center with written and video content for step-by-step customization tips.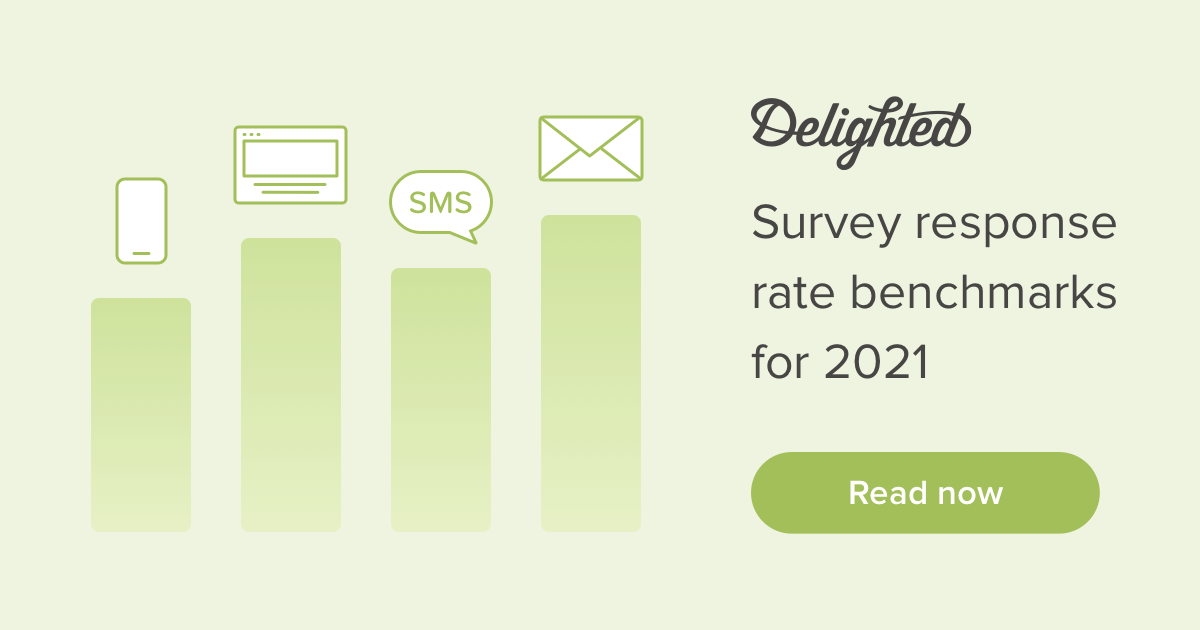 Voxco Online for Surveys
Consumer panel surveys: An advanced method of quality research
Customer Engagement in the Post-Covid world
Patient Experience: The Changing Landscape of Healthcare Research
Exploratory Research vs Explanatory Research
Achieving customer retention and how
Customer Experience (CX) Metrics
Marketing cookies are used to track visitors across websites. The intention is to display ads that are relevant and engaging for the individual user and thereby more valuable for publishers and third party advertisers.
| Name | Domain | Purpose | Expiry | Type |
| --- | --- | --- | --- | --- |
| _gid | www.voxco.com | Google Universal Analytics short-time unique user tracking identifier. | 1 days | HTTP |
| MUID | bing.com | Microsoft User Identifier tracking cookie used by Bing Ads. | 1 year | HTTP |
| MR | bat.bing.com | Microsoft User Identifier tracking cookie used by Bing Ads. | 7 days | HTTP |
| IDE | doubleclick.net | Google advertising cookie used for user tracking and ad targeting purposes. | 2 years | HTTP |
| _vwo_uuid_v2 | www.voxco.com | Generic Visual Website Optimizer (VWO) user tracking cookie. | 1 year | HTTP |
| _vis_opt_s | www.voxco.com | Generic Visual Website Optimizer (VWO) user tracking cookie that detects if the user is new or returning to a particular campaign. | 3 months | HTTP |
| _vis_opt_test_cookie | www.voxco.com | A session (temporary) cookie used by Generic Visual Website Optimizer (VWO) to detect if the cookies are enabled on the browser of the user or not. | 52 years | HTTP |
| _ga | www.voxco.com | Google Universal Analytics long-time unique user tracking identifier. | 2 years | HTTP |
| _uetsid | www.voxco.com | Microsoft Bing Ads Universal Event Tracking (UET) tracking cookie. | 1 days | HTTP |
| vuid | vimeo.com | Vimeo tracking cookie | 2 years | HTTP |
Cookies are small text files that can be used by websites to make a user's experience more efficient. The law states that we can store cookies on your device if they are strictly necessary for the operation of this site. For all other types of cookies we need your permission. This site uses different types of cookies. Some cookies are placed by third party services that appear on our pages.
Use email templates
You can use an email template—a preformatted email message—to quickly create and send email messages. If you create a survey from the blank template, Default Template is selected for use in an email message. If you've created a project from one of the out-of-the-box templates, the corresponding email template is selected by default.
Projects, email templates, and satisfaction metrics are primarily based out of Microsoft DataVerse. Refreshing data on Dataverse environment with another will break Customer Voice projects and surveys on the refreshed environment.
Create a new email template
Import an email template from other surveys
Import a personal email template
If you've been transitioned from Forms Pro, your email templates from Forms Pro are migrated as personal templates in Dynamics 365 Customer Voice. You can then import the required templates in your surveys.
Create multilingual email templates
By default, the email template is created in the default language of the survey. If you've added languages to your survey, you can create email template in those languages, and send email in the customer preferred languages. This creates versions of an email template in the selected languages.
If you're using Power Automate to send survey invitations, specify the language of the survey or email template in the Locale field. If an email template is created in the specified language, the survey invitation is sent in the specified language. Otherwise, the survey invitation is sent in the default language.
Sources:
https://delighted.com/email
https://www.voxco.com/blog/email-surveys/
https://docs.microsoft.com/en-us/dynamics365/customer-voice/send-survey-email
Email surveys
Most businesses spend a lot of time, money and resources attracting new customers. And they want those customers to become loyal and engaged customers that make repeat purchases or continue their subscriptions.
Email Survey Tools
An email survey tool is a web-based platform that helps you to create and share a feedback survey or questionnaire via email to respondents. A great email survey software makes the task of handling email surveys and the data it brings a simple walk in the park. Thus, if you are considering email surveys as your feedback collection method, then invest in an excellent email survey tool that comes with cherry-picked features and is light on your pocket.
Create
Share
Analyze
Follow-up
Emails comprise a dominant part of communication across the globe, making email surveys one of the best methods of feedback collection. Not only is it cost-effective, but also time-saving. Email survey tools help to gather data and feedback that can be used for multiple purposes- from gauging customer satisfaction, measuring employee engagement, to doing market research. When properly implemented, email surveys help you to converse with respondents directly and gather their thoughts & opinions on a matter.
SurveySparrow as your Email Survey Tool
Create conversational email surveys
Create a survey that's conversational and brings 40% higher response rates. SurveySparrow's email survey tool offers chat-surveys, conversational forms, NPS surveys, Offline surveys, and 360 feedback surveys. Choose from diverse question types, pipe questions to personalize, add a Thank You age, and create a survey in minutes.
White-label & Design it
Automate your periodic email surveys using the recurring survey feature. Configure the time, day, and frequency of sharing the email surveys. Set it once and forget about it. SurveySparrow's email survey platform takes care of the rest. For instance, this comes handy while measuring employee pulse and customer satisfaction quarterly.
Design your email surveys and brand it with white-labelling
Import contact lists easily
Import your audience list to SurveySparrow's email survey software easily. The import can be directly using CSV, Excel, or from any application like Hubspot, Google Contacts, Intercom, Salesforce. Add Custom Lists to group your audience easily and add properties like Job Title to them. These properties will help you filter responses and create actionable reports.
Share & automate email surveys
Share email surveys to your contact list(s) at one go and collect feedback swiftly. If you're sharing the same surveys at regular intervals, you can automate the process using SurveySparrow's Recurring Surveys feature. Configure the time, day, and frequency of sharing surveys. The email survey tool takes care of the remaining bit.
Share email surveys and automate feedback collection
Send reminder emails
Share reminder emails to the people who have not taken the survey or who have done it partially. People are busy, and we get that. So a gentle reminder, after a pre-set time, will nudge them to finish the form. Configure the subject line, message, and the interval after which you wish to share the reminders. The email survey tool does the rest of the job.
Embed the first question in email
Add the opinion scale as the first question and embed it on your email surveys. You can use this feature of email survey tools to get greater CTRs. If you are sharing relational & transactional NPS triggers, email surveys with an embedded question are perfect. Thus, respondents can give their rating within the email spiking response rates.
Embed first question in your email surveys for higher CTRs
Analyze data & gain insights
Study the data using the email survey tool's dashboard and gain rich insights. SurveySparrow's reporting module captures data in real-time and stores it securely. Schedule the reports to your inbox and peruse reports without even logging in. Sift responses with Advanced Filters and cross-tabulate using the Compare feature. Export reports offline in the SPSS, PDF, Excel formats.
Analyze data using email survey tool's dashboard
How email surveys work
Use a text link in the survey invitation email
The most basic way to share your survey is to hyperlink text in your invitation email. The link will be the URL of your survey, while the text will be a call-to-action, such as "take our survey" or "share your feedback".
The advantage of a rich text email like this one is that there are no distracting features in the email. The message is short and to the point. And the lack of decoration suggests a level of seriousness that might compel recipients to complete the survey.
Use a CTA button in HTML designed emails
You can also use a CTA button to direct email recipients to your survey in HTML emails. It works very similarly to hyperlinking text. But instead, you use an eye-catching email design with a button as your call-to-action.
Embed the first survey question in your email
This makes the email interactive and increases response rates. That's because recipients can answer a question immediately – their first click provides a response. And once they've provided an initial response, they're more likely to continue completing the survey.
Tip: Since the question you embed in the email generally has a higher response rate than the other questions in your survey, it's best practice to include the question that you really want answered. For instance, if you are sending a customer service survey, you could embed your Net Promoter Score question in the email.
Best tools for running surveys
Google Forms
Google Forms is a free survey tool for individuals and businesses with a Google account. There are no limits on the number of questions you can ask on the form. And you have customisation options available. For example, changing the header image, the theme and the form's background colour.
All responses from your survey are stored automatically in Google Sheets. You can then transfer data from Google Sheets to another database or Excel. Google Forms also allows you to collaborate with others – just like you can in Google Docs, Sheets, and Slides.
The main disadvantage of Google forms is that if your survey recipients are not logged in with a Google Account, they can fill out the survey multiple times. If this happens, your survey reports won't be accurate.
Typeform
Typeform is a great survey tool for creating highly versatile and customisable forms. It has a feature called logic jumps that skip survey questions that are irrelevant to survey respondents based on how they answer previous questions. This way, respondents are only shown questions that are relevant to them.
Typeform has a wide range of custom themes, fonts, layouts, and templates to match the goals of your survey. And to create a survey that looks completely on-brand. You can also choose to build your template from scratch.
Even though Typeform is a bit pricey starting at £25/month, it is a sophisticated tool for designing highly interactive surveys. And there's also a free plan available for those that require less advanced survey features.
Survey Monkey
Survey Monkey is a comprehensive survey tool with more than 230 survey templates separated into categories. You can also create a survey from scratch. Survey Monkey also supports logic functions. The survey tool offers 13 different question types – everything from multiple choice questions to image-based questions.
Survey Monkey offers a free basic plan. With the free plan, you can create an unlimited number of surveys as long as they have only 10 questions and 100 responses per survey. So if you are sending a survey to more than 100 respondents, you will have to go for a paid plan. The paid business plan starts at $25 per user per month but it must be paid annually. In other words, you're tied in for a year.
EmailOctopus
EmailOctopus is a great email marketing software for marketers and small business owners. The software comes with powerful email marketing tools to help you grow your business at an affordable price. EmailOctopus also has an easy to use drag-and-drop editor for creating beautiful emails. Plus, useful features like email segmentation and automation.
By integrating a survey with EmailOctopus, you can collect subscriber data such as content preferences and location. With this data you can use EmailOctopus' segmentation feature to create audience segments. Check out EmailOctopus.
Оптимальное время для писем-приглашений
Если же ваш опрос предназначен для сбора информации о каких-либо офисных программах, отправляйте их в рабочее время, когда люди находятся на работе и готовы ответить на все ваши вопросы, чтобы помочь вам улучшить приложения.
1. Годовой отчет — Stripo
2. Опрос о продакт-менеджменте 2020 года — ProductPlan

3. Опрос об электронной почте в 2019 году — Litmus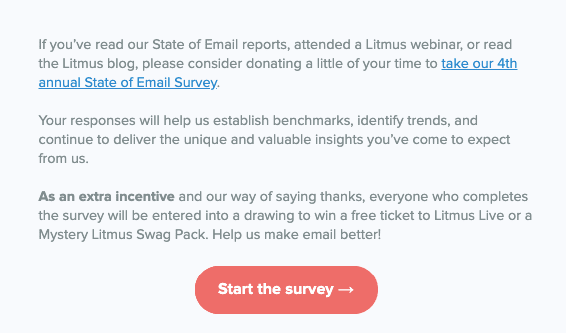 4. Опрос говорит о. — Really Good Emails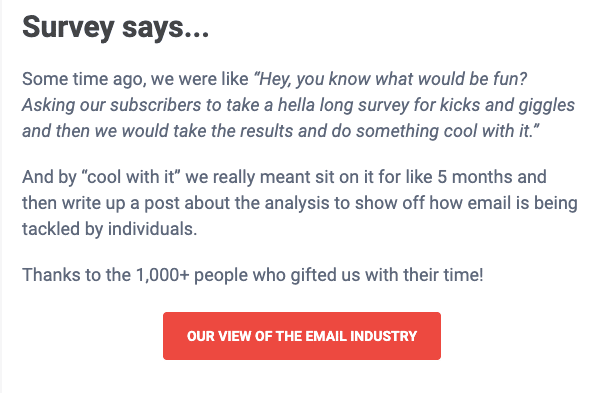 5. Открытка за отзыв о превью кампании? — Email on Acid
Email on Acid стали первым инструментом, который начал проверять письма на предмет доступности. Эта опция сделала их бесценными для всех email-маркетологов. И тем не менее Email on Acid провели опрос, в котором спрашивали у пользователей, что стоило бы еще улучшить в инструменте тестирования.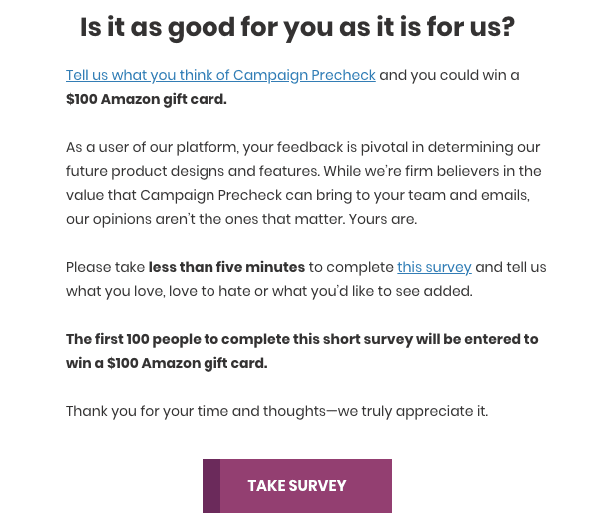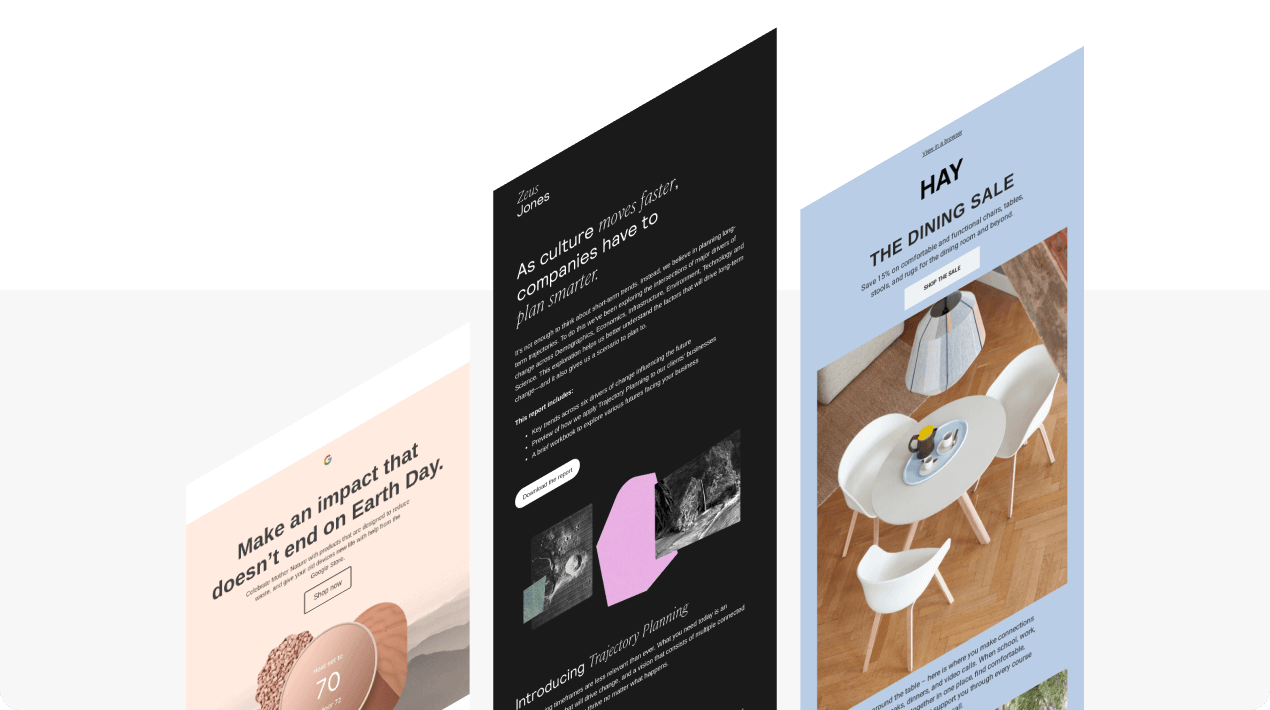 Sources:
https://surveysparrow.com/email-survey-tools/
https://blog.emailoctopus.com/how-to-send-a-survey-via-email/
https://stripo.email/blog/8-ways-send-better-survey-invitation-emails/